It is time to celebrate the season. Our annual Holiday Party is not to be missed. We are gathering once again at the home of the O'Mearas. And remember this is a party for members only! Each member may bring a guest.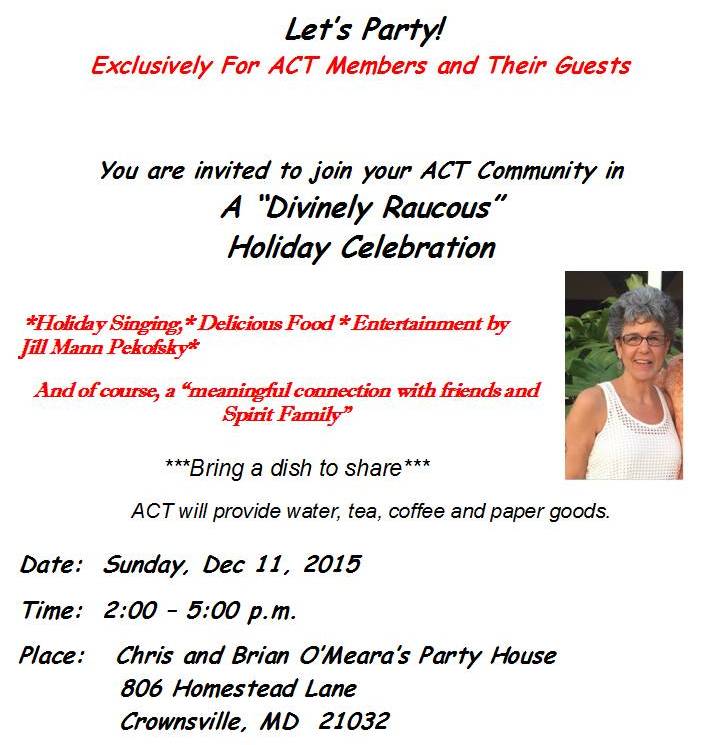 For our entertainment this year we are pleased to present Jill Mann Pekofsky who has been singing professionally on and off for the last 40 years. She currently sings with her choir and solo at the Columbia Center for Spiritual Living, and with the vocal group, Harmonessence, there and at other spiritual centers around the Baltimore/Washington area. She has performed in the recording studio for various projects, and is looking forward to recording with Harmonessence in the near future. She is also the author of the book "The ABCs of Conscious Parenting" available on Amazon.
Thank you to all who renewed your membership so far this year! If you have not had a chance to do so, you may renew online right here on the website: renew now
The ACT Vision
A Community of Transformation (ACT) is a nonprofit educational organization dedicated to transformation in individuals, communities and the earth. We strive to integrate mind, body and spirit to achieve peace, harmony and wisdom.
Our Vision – An inspirational, heart-centered community that nurtures profound transformation.