Our 2022/2023 program year continues October 9, 2022, with our theme:
Love Builds Bridges:
Finding, Knowing, Being Your Deepest Self
Our next speaker to address this theme is Rosemary Robertson Bredeson, The Scientific Mystic; She'll guide us through approaches to "Know Yourself to BE Yourself"
Being authentic in today's world depends on how deeply and truly we understand our thoughts, beliefs, and motivations.  Whether in personal or business relationships, knowing yourself is the best way to create successful and satisfying relationships and a fulfilling life of purpose.
We'll look at how Human Design and other systems of self-knowledge can help you to better understand who you are BEing.
Through Rosemary's teaching you'll:
Learn HOW to learn who you are/your purpose
Understand 'conditioning' and how you can overcome being what someone else or society wants you to be
Experience how it feels to be in your own energy and ONLY your energy
Gain tools to explore to learn more about being your authentic self, along with permission to move beyond the influence of others to be the 'not-self'
BIO: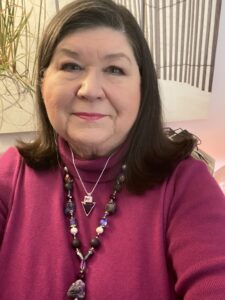 Rosemary Robertson Bredeson, The Scientific Mystic, is a Spiritual Mentor/Medium & Teacher of the New Consciousness. After many years working for NASA on the Hubble Space Telescope Project, she changed careers and has spent 30 years helping people find their clear path to living as their authentic self.
Using counseling tools (like Human Design, NLP, Hypnosis) and intuitive gifts, Rosemary works with individuals/teaches classes/and shares wisdom from many dimensions speaking at events.  Learn more at TheScientificMystic.com
ACT meetings for the 2022/2023 Program Year will again be available in person at Unity By The Bay and online via Zoom:
UBB is located at:
4 Pointless Forest Trail, Annapolis, MD 21409.
The Zoom teleconference link will be sent via email prior to the event.
We generally meet the second Sunday of each month at 2:00 to 4:00 PM.
The ACT Vision

A Community of Transformation (ACT) is a nonprofit educational organization dedicated to transformation in individuals, communities and the earth. We strive to integrate mind, body and spirit to achieve peace, harmony and wisdom.
Our Vision – An inspirational, heart-centered community that nurtures profound transformation.