May 17, 2020, 4:00 to 6:00 pm EDT on Zoom teleconferencing service
In this unprecedented time, your ACT community is eager to share valuable programs to support our ongoing transformation.
Therefore we are delighted that Flo Magdalena will bring us a very special message for this time! Here is your invitation: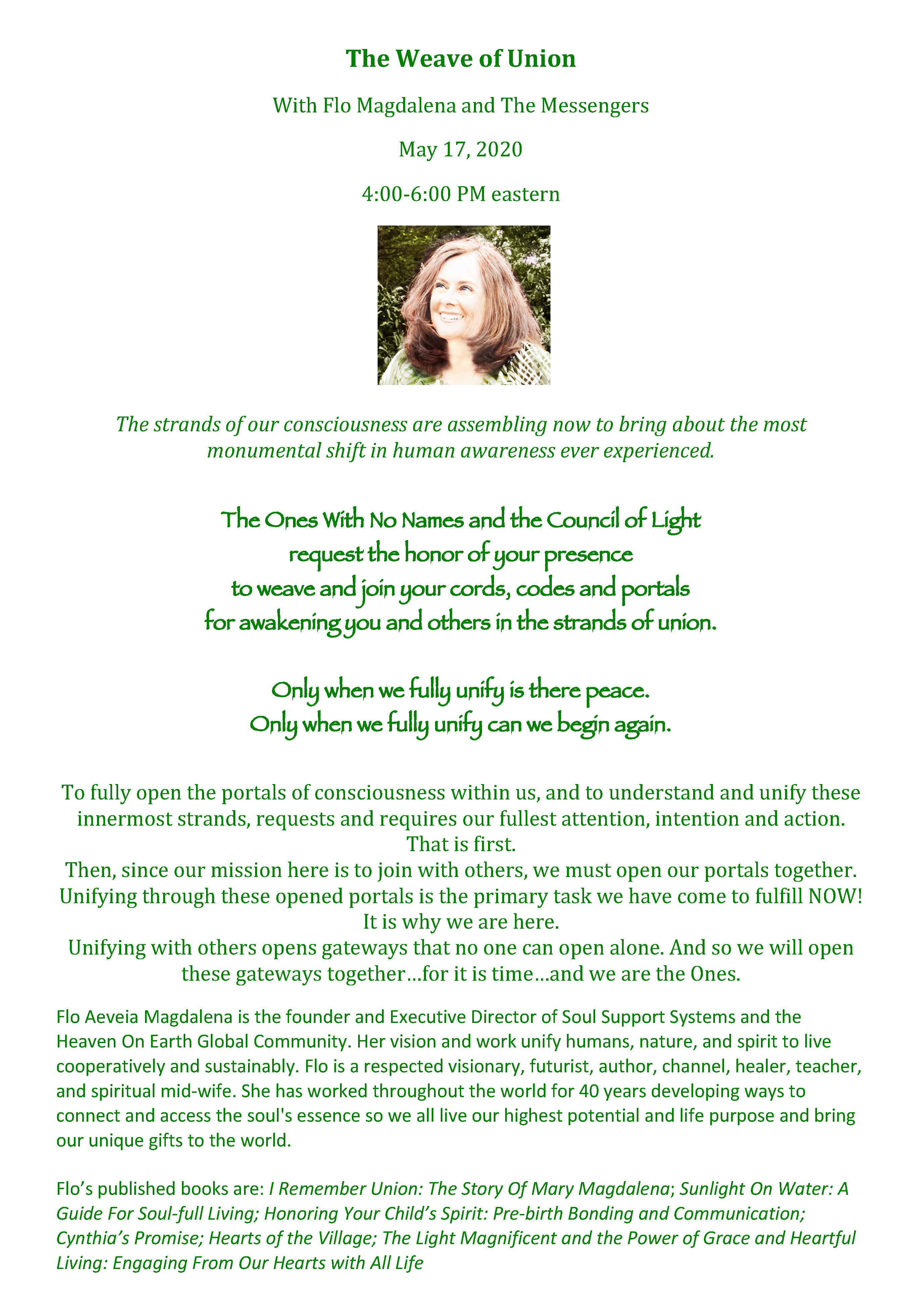 Look for an email with the Zoom link to join this meeting.
And please consider this special note; more about this on Sunday:
A dear friend and colleague of Flo, Jayn Stewart, made her transition to spirit on April 25, 2020. A recent dream shared by Jayn was to create an epic film of I Remember Union. To support this vision, their community has established a fund in Jayn's name for the pre-pre-production of the film. You can donate to Soul Support and receive a deduction through their 501C3. If you wish to donate, you may send a check or utilize PayPal by clicking the Jayn Stewart link below:
Jayn Stewart PayPal link to contribute
To contact Flo:
Soul Support Systems
Phone: (802) 722-9554
Email: soulsupport@soulsupportsystems.org
Website: http://soulsupportsystems.org/
And to stay in touch and up-to-date with all the latest offerings from our community visit our Bulletin Board frequently!
The ACT Vision

A Community of Transformation (ACT) is a nonprofit educational organization dedicated to transformation in individuals, communities and the earth. We strive to integrate mind, body and spirit to achieve peace, harmony and wisdom.
Our Vision – An inspirational, heart-centered community that nurtures profound transformation.