Our Program Year continues on Sunday, May 15 with our theme for the year: Lifting Each Other Higher.
For our May Gathering we will learn the definition of Radical Self-Care, understand the importance of it for the individual as well as the collective, and evaluate what in our individual lives we are being invited to change.
Learning Objectives:
We will understand concepts and practices of Self-Care.
We will use personal awareness and strategies to think, discern, organize, and behave in relation to our Self-Care.
We will understand the concept and importance of Self-Care as it relates to collective Self-Care.
We will leave with tools to implement new levels of awareness and healing in our lives which can then be used to change, shift, heal the world around us.
Please note we are gathering on the third Sunday to give us time to celebrate Mothers' Day!
BIO: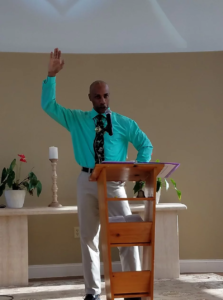 Having grown up with various traumas  and  abuses  that  resulted  in  such things as self-hate, self-loathing, abusive and aggressive behaviors, depression, and suicidal ideations, Rev. Dr. Anderson is very aware of the damage that can occur when Radical Self-Care is not implemented as a way of life. "It took me many years to realize and to actively begin my own person healing process I now know with absolute certainty that Radical Self-Care is key to changing our individual lives as well as the collective." Now as an ordained minister, life coach, mentor and more he assists others in changing their lives.
Our May 15th Gathering will begin at 2:00 pm
We'll again be in hybrid mode:
In-Person at UBB
4 Pointless Forest Trail, Annapolis, MD 21409
Or attend via Zoom
Details will be emailed to everyone on our mailing list.
The ACT Vision

A Community of Transformation (ACT) is a nonprofit educational organization dedicated to transformation in individuals, communities and the earth. We strive to integrate mind, body and spirit to achieve peace, harmony and wisdom.
Our Vision – An inspirational, heart-centered community that nurtures profound transformation.