We launch the ACT program year with "Choose Self-Healing & Find Love" by Denise Figueiredo
September 11, 2022 @ 2:00 pm

-

4:00 pm
Our new program year begins September 11, 2022; the theme for the year: "Love Builds Bridges: Finding, Knowing, Being Your Deepest Self"
Our lead-off speaker to address this theme is Denise Figueiredo. She'll guide us through approaches to "Choose Self-Healing & Find Love"
This presentation is an opportunity for the audience to look into how our human being apparatus is designed for protection first, causing stress to be a normalized way of living. The invitation is to learn to identify the signs of normalized stress and use whole health and healing practices to experience self-healing and discover love as a result.
BIO:
Denise has presented to ACT in the past and looks forward to share her own transformation through this presentation to inspire others in their own journey and self-discovery. She is committed to being an access to love and peace in the world and has expanded her work to online education and therapy to allow people around the globe to learn how to self-heal and transform with the use of whole health and healing practices.
Denise has been an occupational therapist for over 30 years and is interested in how whole health and healing practices support one to experience self-fulfillment and create a life they love. She is a Brain Gym Instructor/Consultant, Cranial Sacral Therapy Provider, Dynamic Body Balancing (Dr. Carol Phillips' program) specialist and energy worker.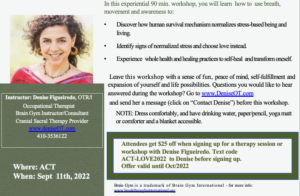 Related Events