November Gathering: Embracing Oneness through the Mystical Union with Your Divine Self, with Anümani Santos, Modern Day Shaman
November 8 @ 4:00 pm

-

6:00 pm
In ancient times, we walked upon this Earth as Masters of Light. The time has arrived for us to remember more deeply that which we have always been and will always be, Beings of Light unified as one through our Divine Heart. This pathway of Christ Consciousness through relationship to DIVINE SELF, the pathway of the mystic, opens the doorway to a deeper transformation and preparation for the grid of Soul Love we are anchoring through our Divine Hearts on this Earthly plane.
We will begin this gathering through a discussion on mystical union and give participants an opportunity to engage in dialogue on their own experiences related to the mystic within. We will then move into an experiential transmission and activation where participants will learn a simple exercise on how to connect with their own Divine Self. Immediately moving into a Sound Transmission and Activation through channeled words, sounds, vibrations, lyrics, and light language to anchor this energy into the Light Body of those participating. We will end the session with a Q&A so participants can ask questions and share their experiences with the group.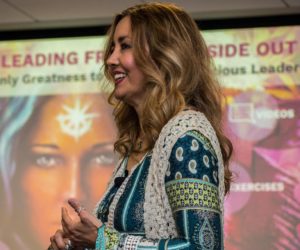 Anümani Santos, Modern Day Shaman, is an artist, award-winning author, channel, coach, and spiritual teacher who enriches audiences with her powerful channeling and transformational presence, opening hearts and inspiring minds to new possibilities and a deeper knowing of who they really are.
She is a contributing author to the anthology Pebbles in the Pond, Wave 4, and international bestselling author of Unmasking Your Soul: A Transformational Journey of Truth, Light, and Healing (Book 1). She is the forthcoming author of Unmasking Your Soul: Activating the Sacred Mysteries of the Divine Heart (Book 2). Visit her website at:  www.AnumaniSpeaks.com.