November Gathering: "Clearing & Transformation through d.i.y. zen and Vocal Vibrational Toning" with Gary Niki
November 14 @ 2:00 pm

-

4:00 pm
Our 2021/2022 Program Year continues with our theme for the year: Lifting Each Other Higher.
Have you or a loved one ever experienced anxiety, stress, emotional or physical assaults, harassment, bullying, life changing disasters, losses and painful traumas while secretly suffering in silence?
Or, felt the embarrassment, awkwardness or shame of having to explain or tell someone what happened, just for the hope of relief and assistance?
If yes, then "d.i.y. zen and The Art of Gentle Emotional Transformation" may be just the 'secret self-therapy' you need. In his book and workbook Gary offers simple yet powerful 'do-it-yourself' (D.I.Y.) tools to help clear out these feelings and to bring in the positive transformation for you and your loved ones! In his presentation:
Discover Your True-Self Strength, Divine Power through Muscle Testing
Discover Simple Energetic Clearing Techniques
Discover and Practice Vocal Vibrational Toning for Clearing, Healing and Processing Emotions
Gary uses a plethora of energetic practices, skills, tools to assist and positively transform his clients. As a Shamanic Energy Practitioner, he connects through voice and with Shamanic instruments like the Didgeridoo, Drum, Rattle, Tibetan Bell, and more.
He uses simple tools and techniques found in his book and has shared them with thousands of individuals over the past two decades. Many of them happily testify to the amazing and positive outcomes they have experienced! As these processes have helped many, it's possible for you and your loved ones to benefit and enjoy the positive difference in your life!
Bio: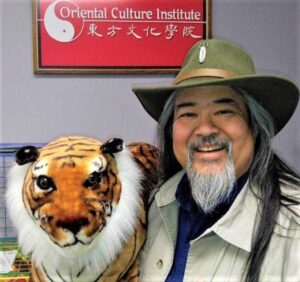 Gary Nobuo Niki is the Shamanic Samurai Medicine Man, a wise leader, powerful spiritual warrior, minister and energetic healer and who will touch your soul in unforgettable ways. He is the author of "d.i.y. zen and The Art of Gentle Emotional Transformation" his background includes Spiritual Care, public safety, investigations, disaster-emergency management, anger management and training on many levels, his work incorporates deep masculine healing with multiple energetic modalities and vocal vibrational toning.
Gary is in the Washington, D.C. Metro Area where he works with clients and groups in person and around the world via phone and internet. He is an Anger Management Facilitator, the qualifying party and owner of NIKIDO an Arizona Private Investigation Agency founded on January 8, 1990. Gary is retired from National Disaster Emergency Management and Public Safety. He has worked with Multiple Energy & Healing Modalities since 1983.