"Healing Frequency Journey" with Caroline Karditzas
March 8 @ 2:00 pm

-

4:00 pm
Every sound that we make or hear has a frequency, gives us choices about how we act, respond, create and commune. It's not just about consciously choosing our words, it's about consciously choosing everything from our thoughts, to our surroundings. We can choose to expand.
Caroline calls what she does, "The Slow Conn Job"–using everyday experiences to pull people closer to their divinity with humor and encouragement. Her goal is to smear each individual in her classes with the knowledge that JOY is a God-given right. She worked for years to help practitioners shake off the everyday stressors that were clouding their "view." She slowly realized that what she was really doing was retuning people's frequencies; like adjusting the knobs on an old HAM Radio. She learned at one point that if she could encourage one person at a time, then she could certainly do it en mass. Musicians do it all the time. Why not yoga instructors? Her goal, like a tuning fork, is to help reset folks to a higher resonance so that they can tap into it at will and spread it to their communities. JOY, in fact, is contagious!
During our gathering we will:
Cover what it means to be a "Light Worker"
Use both the frequency of sound bowls & the gong, combined with our community of voices & tones. to "connect" and "rise"
Purify our personal frequency using breathwork techniques
Tune into the frequency of community

Use our community voice to uplift the masses – humming and toning as the gateway to connecting to the Higher Self

Leave knowing that "Light Work" effects us all on a quantum frequency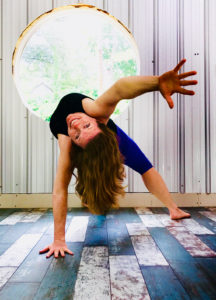 Caroline Karditzas concentrates on truly teaching yoga and self-healing, associated anatomy, body mechanics, chakras, energy systems and self-care. She guides practitioners to seek the joy and strength within themselves using various meditations, Reiki and sound therapies, to help practitioners relax fully in Sivasana (final relaxation at the end of class), during one-on-one sessions and in Sound Immersion Workshops.
Caroline is a third level certified Sound Healer and will begin teaching Sound Healing certification classes in the near future. She is also a 500-Hour Yoga Instructor, a Medicinal Herbologist, Reiki practitioner and Empath.
Our music for the gathering is integrated with our experience using Sound Healing!